The clock is ticking. The IPCC Synthesis Report marks the final instalment of the organisation's hefty sixth assessment report and its compelling scientific evidence provides a clear message to policy makers and leaders: fast-track climate efforts to avert disaster and irrevocable damage to the world because time is short.
There is, according to the report, still hope of maintaining the 1.5°C ambition but only if adequate action is taken now to explore "multiple, feasible and effective options to reduce greenhouse gas emissions and adapt to human-caused climate change"[Ref.1].
This reads like a final warning and the effort required to meet the challenge needs action by all countries, governments and industries.
Business leaders have a crucial role to play in driving sustainable change, reducing emissions and fostering positive environmental impact. Taking more ambitious action now could substantially reduce future losses and damages from climate change while fostering sustainable business growth.
Rapid mitigation would reduce future losses and damages from climate change
The report states: "To accelerate climate action, the adverse consequences of these changes can be moderated by fiscal, financial, institutional and regulatory reforms" [Ref.2].
There is an urgent need for deep and rapid decarbonisation this decade. Accelerated climate adaptation is essential to close the gap between current efforts and what is required.
Limiting warming to 1.5°C above pre-industrial levels requires deep and sustained greenhouse gas emissions reductions across all sectors.
By 2030, emissions must be cut by nearly 50 per cent to maintain warming at 1.5°C. Delayed mitigation actions will exacerbate global warming, increase losses and push some human and natural systems to their adaptation limits.
This delay in mitigation and adaptation presents multiple risks such as cost escalation – for example, due to damaged assets; infrastructure lock-in and stranded assets – preventing deep decarbonisation; and reduced feasibility and effectiveness of adaptation and mitigation options. Rapid mitigation and accelerated adaptation are crucial to prevent increasing losses and damages, especially in vulnerable regions like Africa.
Astute business leaders are already planning transition to net zero. Risilience works with a range of large organisations with complex supply chains helping them to develop and understand the cost benefit justifications for net-zero transition plans.
Pressure for businesses to demonstrate a net-zero strategy is building and many organisations are turning to climate-risk reporting frameworks, including the Financial Stability Board's (FSB) Task Force on Climate-related Financial Disclosures (TCFD), which is now mandatory for certain large organisations and financial institutions, and will extend to most businesses by 2025. Companies that evaluate their risks and opportunities associated with climate change, and develop mitigation and adaptation strategies that have a net-positive environmental impact are best prepared and will be ahead of the competition in the low-carbon economy – well positioned to optimise emerging opportunities.
The International Sustainability Standards Board (ISSB) frameworks, which are investor-focused and closely aligned to the TCFD proposals, will be finalised in June 2023 and are widely expected to inform climate reporting globally in a bid to unify disclosure from corporates.
Resilient development as the way forward
Assessing costs and benefits of different decarbonisation strategies is essential in helping businesses grow in a sustainable way while reaching net-zero targets.
Climate-resilient development offers a solution by integrating climate adaptation measures with actions to reduce or avoid greenhouse gas emissions, providing wider benefits. Decarbonisation strategies, electrification and access to clean energy are vital for sustainable growth and provide business leaders with steps that can be taken as part of the transition to net zero.
The report highlights numerous solutions for reaching net-zero, such as use of wind and solar energy, fuel switching, improving building efficiency,  and estimates their potential costs by year 2030.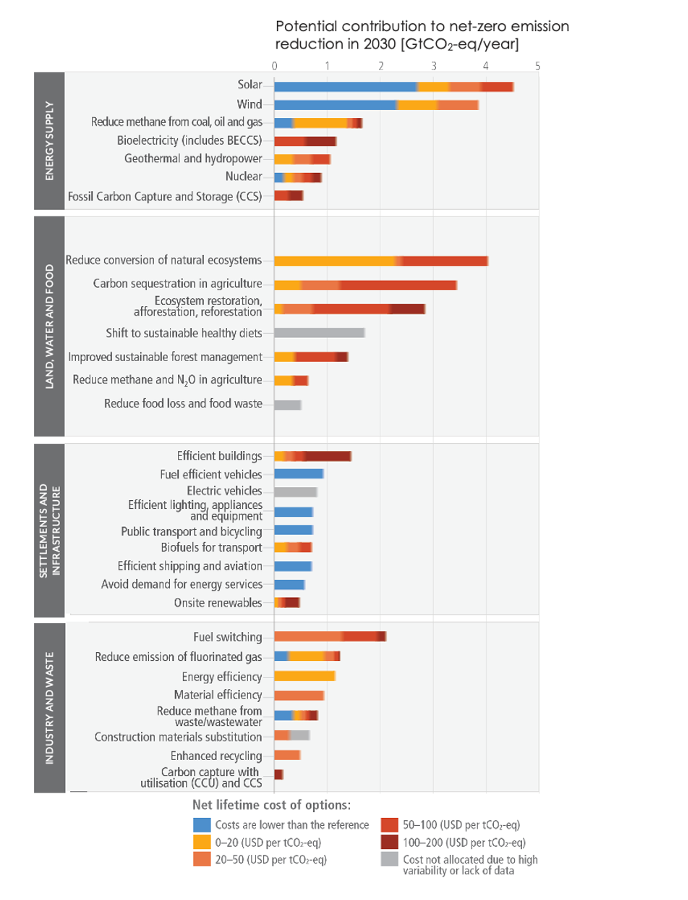 Multiple opportunities for scaling up climate action. Figure adapted from IPCC AR6 SYR Figure SPM.7 (panel b)
For many companies, there is a positive, long-term financial benefit from reducing emissions; it's good for both the environment and shareholders. Ultimately, those businesses that fail to engage will lose out.
Enabling sustainable development by sustainable investment and conservation efforts
As adverse impacts from climate change will intensify, there is an increasing need for financing climate investments to achieve global climate goals, and accelerate mitigation and adaptation efforts. Governments, through public funding and clear investor signals, play a key role in overcoming barriers. At the same time, investors, central banks and financial regulators can also contribute to deep emissions reductions and climate resilience.
Reducing carbon-intensive consumption and investing in adaptation can mitigate risks, particularly for vulnerable groups and regions. Climate, ecosystems and society are interconnected. A healthy planet in the future requires conserving 30-50 per cent of Earth's land, freshwater and oceans.
Urban areas present opportunities for ambitious climate action that fosters sustainable development. Changes in food, electricity, transport, industry, buildings and land-use can lower emissions and promote low-carbon lifestyles, improving health and well-being. Understanding overconsumption consequences helps people make informed choice.
For businesses, viewing this through the climate-risk lens can help quantify how the availability of green finance, taxes and consumer behaviour, among other things, will impact companies over the medium to long term. This, in turn, supports the business case for sustainable developments.
Business leaders who proactively evaluate their impact on nature's capital set the standard for success. They must continue leading by example, demonstrating how to achieve decarbonisation, generate a positive environmental impact and maintain sustainable growth.
Call to action
The report's core message emphasises the critical need for accelerated climate action, as "Pace and scale of climate action are insufficient to tackle climate change. Accelerated action required." By 2030, emissions must be reduced by nearly half, and practices and infrastructure must be scaled up to increase resilience. Deep decarbonisation is crucial.
Industry leaders and CEOs must recognise the report's significance and take decisive action. All companies should establish a credible net-zero plan, aiming to cut emissions by at least half by 2030 and achieve net-zero soon after. Various solutions can help accomplish this goal, and conducting cost-benefit analyses and "what-if" scenarios for different decarbonisation strategies is an essential first step towards long-term sustainable growth.
To drive sustainable change, business leaders should:
Develop and implement robust net-zero plans
Pursue innovative solutions for deep decarbonisation
Analyse the costs and benefits of various decarbonisation strategies
Act swiftly to limit emissions and reach net-zero target
Incorporate environmental stewardship into business operations to make a positive impact on the environment.
[1]. IPCC Synthesis Report 2023 Press release: https://www.ipcc.ch/report/ar6/syr/downloads/press/IPCC_AR6_SYR_PressRelease_en.pdf
[2] IPCC Synthesis Report 2023 https://report.ipcc.ch/ar6syr/pdf/IPCC_AR6_SYR_SPM.pdf